Autumn lunch at the Savile Club
Thursday, October 21st, 2021
We celebrated our first real-life gathering for two years in style with lunch at the Savile Club on Thursday 14 October. And what a glorious event it was! We last visited the Club in 2012 to celebrate the 10th anniversary of the Network and we were delighted to find last week that it had lost none of its magic.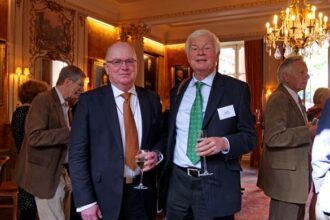 The event was first proposed, and sponsored, by Research Network and Savile Club member Bryan Bates nearly two years ago. Sadly, shortly after the arrangements had been made, Bryan fell seriously ill and he remains too unwell to attend Network events, so we are hugely grateful to him and his family for making the Lunch possible. Bryan's son Paul (pictured with Adam) joined us for drinks and has passed on our thanks.
This proved to be a splendid reunion after the long gap caused by the pandemic. Despite the best efforts of the South Western Railway network which chose the day for an ill-timed train failure, nearly 60 members and guests made it to Brook Street for the lunch. Photos of this thoroughly enjoyable event can be found here.