The Research Network at Insight Alchemy 2023
Wednesday, March 29th, 2023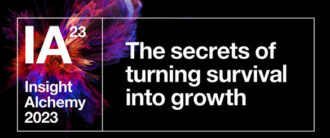 For the first time since March 2020 the MRS held its annual conference in a physical venue – The Hilton Bankside. A place where people could get together, meet new people and talk in person. It was so much better than watching videos in the virtual conferences the MRS has had to hold for the last two years. The format was new, lasting one day rather than two, with two parallel streams and more panels than in the past. There was a real buzz in the audience and lots of new faces.
Our stand was in a good position near the entrance to the hall. There were two people on the stand at all times, a mix of Steering Committee members and our new Champions. We had a new banner and promotional leaflets. During the breaks there was a steady stream of visitors who wanted to find out about the Network. Some of them have already joined and we are expecting to recruit more members as we follow up our contacts in the next few weeks.
The party after the conference organised by the Research Club at the Refinery was great fun and an opportunity to say farewell to the lovely John Bizzell who has effortlessly organised events for the MRS for years. There are people, especially in smaller firms, who want to maintain their network of acquaintances in the industry, and some of those are interested in the different social opportunity the Network offers.